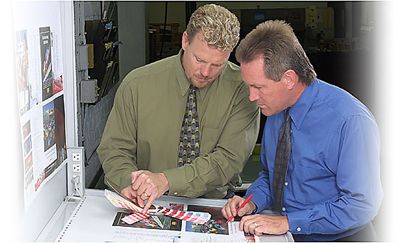 Queen Beach Printers is an established company that has a fresh perspective. Queen Beach utilizes up-to-the-minute technology combined with a depth of experience in the industry to produce high quality printing at reasonable price for its customers.
In the first decades of the twentieth century, when this company was founded, the shoreline in Long Beach, California, was known as the "Queen of the Beaches." The climate on the south-facing beaches was pleasant, and Pine Avenue boasted some of the best shopping in the region. Today, the climate is still great, the shopping district is still bustling, and Queen Beach Printers is still here serving its customers.
In 1927 Queen Beach Press was established by Robert Bentley, a Morman missionary, and in 1933 Mr. Bentley sold his company to O.B. Peterson, a minister. At that time church bulletins and social stationery, such as wedding invitations, were Queen Beach's main products.
In 1944 Aleck and Mary Edwards bought the company, and it has been owned by members of their family ever since. Aleck and Mary changed the name to Queen Beach Printers, reflecting the commercial expansion of the company.
From the middle of the twentieth century into the beginning of the twenty-first, the Edwards family--and the extended Queen Beach family of employees--has been actively involved in producing top class printing and giving top class service. The excellent trained staff strives to not just meet but exceed their customers' expectations. Queen Beach Printers is proud of its long history and confident about its future.